This website began as a way to share information on the Ryburn family of Washington County, Virginia. But like pebbles rippling on a pond, one family led to another, and then to another.... and with the help of many wonderful cousins and friends the site now includes numerous pioneer families.
Comments or corrections are appreciated... and please consider sharing photos and "facts"... they are the gifts that keep this website growing.
Washington Co. images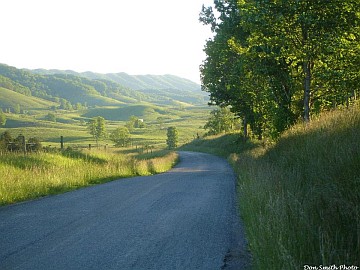 Sept. 2013
This update has been a long time coming but contains considerable new material. It also incorporates several format changes. The menu bar now has a drop down menu which saves a click here and there. The endnote superscripts now serve as direct links to the appropriate source entry (just click on the little blue number at the end of a sentence). The pedigree chart associated with most "people pages" now includes children and siblings. Look for the pedigree icon before the subject name.
As for content, there are 2 new house pages and 6 other new photos on the Homes and Buildings page. If you are interested in the Kincannon, Talbert or Robinson families, or just the history of the Old Stage Rd., be sure to see the 2 new "house" pages. The portrait gallery has some new members and there are several wonderful group photos on the Group Photos page. In addition, a new Robinson surname page includes a detailed analysis of a chancery case involving Jane Robinson's 1835 contested will.
This update also includes a large amount of material contributed by Bob Gardner from his years of research on the Gardner and McCamant families. The easiest way to view these narrative pages may be by starting from the Jeremiah Gardner Descendant chart. There are several associated land plats/maps under the Washington Co. land plats page and the Misc. Locations - Texas section.
Bob and Donna Jean Ford finished their abstract of Washington So. Survey Book 2 (all 500+ pages). In addition to sharing this work they compiled a list of early Washington Co. waterway names and their more recent equivalent (see the Land Records page). As always, the best way to review the new material is from the current Change Log.
On a sadder note, there is a new addition to the Fallen Leaves page. Many of us have had the pleasure to exchange research over the years with Dr. Howard V. Jones. Howard passed away on May 17, 2013 at age 91.
Since I was so tardy with this update I added a slide show to this page instead of my usual single photo. The valley scene is from Don Smith; the Abingdon muster field photo is from Margaret Kincannon; the cemetery photo is from Charlie Barnette; the brick house is the old Snead home on the Stage Rd. Enjoy!
| Other Links: | Featured pages: |
| --- | --- |
| | |